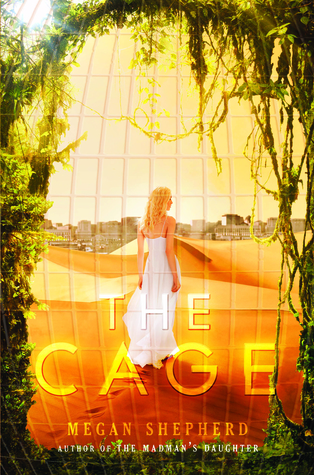 The Cage (The Cage #1), by Megan Shepherd                                      Publication: May 26, 2015, by Balzer + Bray Genre: Young Adult Fiction, Dystopia, Science-Fiction, Romance                                     Pages: 400                                           Format: Hardcover                         Source: BEA/Publisher                                           Rating: 
The Maze Runner meets Scott Westerfeld in this gripping new series about teens held captive in a human zoo by an otherworldly race. From Megan Shepherd, the acclaimed author of The Madman's Daughter trilogy.

When Cora Mason wakes in a desert, she doesn't know where she is or who put her there. As she explores, she finds an impossible mix of environments—tundra next to desert, farm next to jungle, and a strangely empty town cobbled together from different cultures—all watched over by eerie black windows. And she isn't alone.

Four other teenagers have also been taken: a beautiful model, a tattooed smuggler, a secretive genius, and an army brat who seems to know too much about Cora's past. None of them have a clue as to what happened, and all of them have secrets. As the unlikely group struggles for leadership, they slowly start to trust each other. But when their mysterious jailer—a handsome young guard called Cassian—appears, they realize that their captivity is more terrifying than they could ever imagine: Their captors aren't from Earth. And they have taken the five teenagers for an otherworldly zoo—where the exhibits are humans.

As a forbidden attraction develops between Cora and Cassian, she realizes that her best chance of escape might be in the arms of her own jailer—though that would mean leaving the others behind. Can Cora manage to save herself and her companions? And if so . . . what world lies beyond the walls of their cage?
Michelle's thoughts:
Where have you been all my life, wonderful novel? Megan Shepherd is a brilliant writer, seriously brilliant. From her Madman's Daughter trilogy, which I'm just about finished reading excluding its final novel, to this, she keeps impressing me every time and I can only expect a 5 star read from her. Let's just say that this rarely occurs in my bookish ratings. The Cage was terrifically head-pounding and left me speechless. Bear with me, fellow Shepherders, because we're in for a wild ride after all.
Lately, dystopias haven't been my exact favourite genre of novels as they once were. Authors seem to be using the same kind of ideas over and over again, in different settings, political views and with different character personalities, of course. When I grabbed a copy of this, I kind of already knew that it is promising. It sure is. It promises you a read that has similar traits to The Maze Runner, but nothing completely like it. Imagine you wake up and discover that you and five other humans have basically been abducted by aliens and are stuck in a cage for the remainder of your lives, possibly. That's only the start where this begins.
"You might have grown up in a rich-girl bubble, the gap-toothed girl had told her, but in here you have to learn the rules of the real world. First off: never trust a stranger—especially one who comes offering help." (10)
So Megan actually hands us a variety of perspectives: different characters who simply have a total divergent view on where they're at. Some believe that the Finders (the strange aliens who claim to be keeping them safe) are not doing any harm, while others, specifically Cora, the girl most likely featured on this astonishing cover and who's technically the main character, believe that they have to get help, trying to be released and escape. Of course they want to escape. There are five other teens who have been held captive, one, who which is released in the middle of the book. The rest are: Nok, Rolf, Leon and Lucky, and Cora finds some kind of connection between Lucky, but she realizes that he knows too much about her past. The Finders have three rules, and the six held in captive must follow them all by twenty-one days, or they'll be taken away, presumably death.
Oh I'm serious all right. Did I mention that this book may hold one of the most bold love-triangles in modern YA history? After reading, I sat there, thinking, "what the hell just happened?" because readers certainly never expect a romance between two people who actually have been together in the past (in a way) and a girl and an alien. WHAT?! The thing is, Shepherd delivers the idea of an alien (a Finder) so awesomely. They're not green and gooey as we all expect them to be, and they're certainly not UFOs. Cora and the others describe them as: bronze and without pupils, basically. You'll have a horrible time trying to decide which guy is perfect for Cora…
Cora has a wonderful, unique name as well, just like the book is. With a hint of contemporary and mystery from her life on Earth, she is very, very badass. I do wish that we had been able to hear more of her life in juvie, but it's pretty nice of her that she took the blame for manslaughter, which was all her dad's fault. I don't know if I would've done it, but in a way, fate has placed her on this foreign planet when all of Earth could be destroyed. O_O Karma's probably a factor for tons of the events here, too.
Remember me mentioning how the dystopia aspect was done perfectly? Well let me just say it again. When reading, I kept wondering how Shepherd was able to conquer this idea in just a matter of 400, gorgeous pages. The different biomes and habitats found on the weird planet just made the story tens of hundreds of times more interesting. It's like traveling to different places on the Earth, in a matter of acres. They had to make some kind of escape, or the book would've been plain boring and wouldn't focus on anything. Shepherd's writing is mad, wicked and freaking stunning. I'd actually read about Cora and the crew over and over again until the sequel is about to be released.
"This couldn't be her life. Four walls made of endless trees and mountains and a ceiling made of limitless sky, and a man with black eyes who thought giving her the stars could make this world real." (199)
You know how many quotes I have sticky notes in? 8. That's actually a ton for me, and shows how unique this story is. How much depth there is in the writing. How touching it is. Whoa. And when the romance actually kicked in and readers got a sense of what was yet to come (after the taking-food-away incident), things got even more thrilling. Although Cora hadn't admitted it yet, she kind of fell in love with Cassian. Picture a lonely alien who never has felt love or kissing before, until he saw her. Let's just say that Cassian will play mind games with you readers, until you discover the truth in the end, though I bet that there are still an endless amount of questions that will be answered until the trilogy (duology?) will be completed. I just wish that I could have all of the books, pronto!
I declare that I'm officially obsessed with this book. I'd seriously make a Tumblr account and post all of my wacky theories on there of what is yet to come and the reason why everything makes sense… or why it doesn't. The Cage explores romance (in a love-triangle format without any instant affection), a broad sci-fi subject matter which not even the best scientists can conquer, and awesome characters. All of the plot and time spent on different events made total sense. I'm a fan of Lucky and Cora together and I WANNA SEE THEM GO BACK TO EARTH TOGETHER. Can those underground ocean ways bring them back to their *SPOILER* destroyed planet? *SPOILER*
do you think you'd survive in some cage like this? what role would you grasp to have? i'd be the chick who makes the escape plan. *JOKES* I'd get the food, definitely. Would you make friends with the alien creatures who captured you? What about fall in love with one of them?