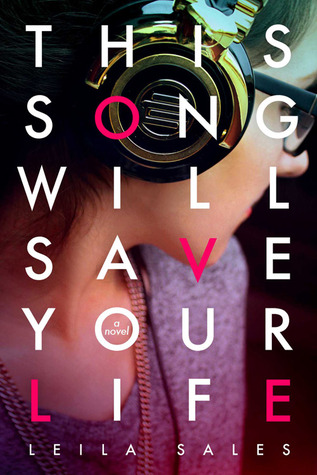 This Song Will Save Your Life, by Leila Sales                                Publication: September 17, 2013, by Farrar, Straus and Giroux BYR                                             Genre: Young Adult Fiction, Contemporary, Romance                                                   Pages: 288                                         Format: Hardcover                           Source: Borrowed                                                 Rating: 
Making friends has never been Elise Dembowski's strong suit. All throughout her life, she's been the butt of every joke and the outsider in every conversation. When a final attempt at popularity fails, Elise nearly gives up. Then she stumbles upon a warehouse party where she meets Vicky, a girl in a band who accepts her; Char, a cute, yet mysterious disc jockey; Pippa, a carefree spirit from England; and most importantly, a love for DJing.

Told in a refreshingly genuine and laugh-out-loud funny voice, This Song Will Save Your Life is an exuberant novel about identity, friendship, and the power of music to bring people together.
Michelle's Thoughts:
I'll tell you this: it's been a long time since I've been able to relate to a book and its protagonist so much. Sure, I can find the odd laugh or two in relation with other books, but Leila Sales has given me that opportunity where I cried, even bawled, reading about Elise's experience and love for her talent. So in that case, let me write a letter to Ms. Elise Dembowski to celebrate her gorgeous, satisfying and unbelievable story.
Dear gorgeous dj elise,
Remember when you spoke about this back in the day?
"I had worked so hard, wished so hard, for things to get better. But it hadn't happened, and it wasn't going to happen. I could buy new jeans. I could put on or take off a headband, but this was who I was. You think it's so easy to change yourself, but it's impossible."
That quote hit me like never before. I felt you, I understood everything you had gone through to help yourself. Although I've never been suicidal or plan to, your sense of loss in the world, trying to find yourself and what you love to do was something that speaks to me. My life situation isn't has horrid as yours has been, but I bet that we can speak to each other and understand each other. You're totally a new favourite character, but you felt more like a friend in the end.
I've had so many friendship issues. I never have been able to find the right group of friends for me, people who understand me and have the same likes and hobbies. When I joined the book blogger community, I found that sense of hope, just like you did with DJing. I love music too, so we can talk about that. But you're simply fabulous, and I can't even explain how much everything hit me. I felt your pain, your tears and your happiness.
Thank you for giving me the feels and all of that, seriously. I'll definitely be buying a copy and will be rereading it for years to come. Your story is a classic, my friend!

nOW ONTO MY ACTUAL THOUGHTS OF THE PLOT AND WRITING. i'LL JUST LET YOU KNOW FROM HERE THAT IT'S ALL PERFECT. ALL THE STARS FOR EVERYTHING.
It's been a while since I've read a book like this. Something with everything you feel is so perfect? It's 100% for all. Leila Sales has never impressed me as much ever, and now I'm thousands of times even more eager to read her future works, including her newest and upcoming, Tonight the Streets Are Ours. Sales hits on the right amount of everything: romance, friendship, family and passion. It's my first time ever reading about a talented DJ, that's for sure!
Sales doesn't make love seem like it's perfect or that it happens instantly. There are twists and turns given when readers realize the realism of fiction. This is the most contemporary a book can get. The ending shocked me, but it stayed real and blew my expectations in the best way. You don't always expect the best things to happen to characters once their story is over. Although I must admit that as a protagonist, Elise deserved all of the best for her future. Now we're caused to think and wonder about what happened next. 
"Does this seem weak to you? Could you have done better? Fine, by all means, do better. But you don't understand this: sometimes when you are worn down, day after day, relentlessly, with no reprieve for years piled on years, sometimes you lose everything but the ability to cry."
So after everything, I firmly believe that This Song Will Save Your Life can save one's life. Elise went from being suicidal and cutting herself without any friends to a girl with a strong view of talent and happiness. It spoke to me like never before. Leila Sales has featured an extraordinary view on a high school experience, and it certainly fit mine more than ever.
Would you possibly like your life to be written on a 300 paged document that everyone else is fanning over? That's the question that I would've loved to have been asked beforehand, before picking up this stellar masterpiece of a novel. And I would've answered yes without any questions asked. In a way, this book did kind of save my life. It's unique, true-to-the-heart and just perfect. Elise will leave you wondering what happens next in her story, and about yours as well.
So I just can't get this book out of my head, for obvious reasons. have you ever been stuck in a situation like elise's? you don't have to go deep into it, my friends. but i can tell you that i have, and leila just understands teenagers unlike any other writer. did you ever feel that way about a book? that it just speaks to you and your life?