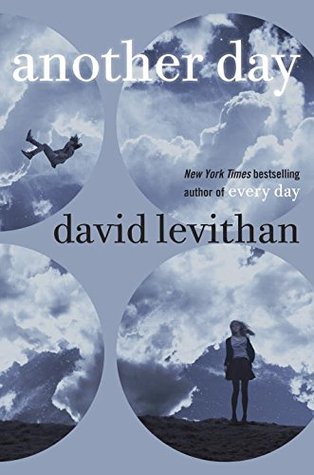 Another Day (Every Day #2), by David Levithan                                                Publication: August 25, 2015, by Alfred A. Knopf BFYR                                                                   Genre: Young Adult Fiction, Contemporary, Romance, Fantasy                                                     Pages: 300                                                                 Format: ARC                                                               Source: BEA/Publisher                                           Rating: 
½
In this enthralling companion to his New York Times bestseller Every Day, David Levithan (co-author of Will Grayson, Will Grayson with John Green) tells Rhiannon's side of the story as she seeks to discover the truth about love and how it can change you.

Every day is the same for Rhiannon. She has accepted her life, convinced herself that she deserves her distant, temperamental boyfriend, Justin, even established guidelines by which to live: Don't be too needy. Avoid upsetting him. Never get your hopes up.

Until the morning everything changes. Justin seems to see her, to want to be with her for the first time, and they share a perfect day—a perfect day Justin doesn't remember the next morning. Confused, depressed, and desperate for another day as great as that one, Rhiannon starts questioning everything. Then, one day, a stranger tells her that the Justin she spent that day with, the one who made her feel like a real person . . . wasn't Justin at all.
miCHELLE'S tHOUGHTS:
After reading hundreds and hundreds of contemporary romances, I still see David Levithan's work as something else. And in that sense, his writing means so much to me and every single book of his that I've read holds a wide spot in my heart for most meaningful and unique. And especially after adoring Every Day, I've been eager for a sequel and now that it has hit me and left me breathless, I'll definitely call that a true success.
Another Day focused on more of the romance and love story than the first novel did, which I can totally understand. Taken place in Rhiannon's perspective, there were so many intriguing moments throughout that I could definitely relate to, and even remember from the first novel. But here's the thing, as was mentioned in David's letter in this ARC edition, anyone could read this book. Although this wasn't as perfect as the first book, you could read this as a sequel, or if you've never heard of this series and you just want to begin with this one. That's how awesome David wants to give us this reading experience.
"You know it wasn't Justin with you that day. In your heart, you know. He didn't act like Justin. He didn't do things Justin does. That's because it was me. I didn't mean to do it. I didn't mean to fall in love with you. But it happened. And I can't erase it. I can't ignore it. I have lived my whole life like this, and you're the thing that has made me wish it could stop." (76)
It's a dark, gloomy read as well. It's basically everything that happened in the first novel, all in Rhiannon's view. I loved her in the first book, and kind of also longed for a POV by her, and this was the perfect occasion. I never saw it coming or about to be released, actually. And that cover is TO DIE FOR as well. David sure knows how to make his books look hipster, that's for sure! You don't even expect this book to be so great and heart-warming, but it took me for surprise and I just can't stop fangirling/thinking about it.
I don't even have to give a summary. It's a simple yet complex read with a genre of paranormal, mixed in with 90% contemporary-romance. A's character is Rhiannon's main focus and she spends most of the novel thinking about him and what their relationship will eventually turn into. The confusion is real, and I totally get why she did the things that she did. I seriously adored this book and everything about it. Can I also note that it was pretty life-changing when I really think about it?
When you deeply, really think about it, this book is for anyone. You can be a guy or a girl, liking the genre or premise or not, and willing to enjoy everything. Life may be depressive and all of that, but you have to focus on the bright things. David couldn't have said it better, to be honest.
"But that's not all. Justin loves me and hates me as much as I love him and hate him. I know that. We each have our triggers, and we should never reach in to pull them. But sometimes we can't help ourselves. We know each other too well, but never well enough." (2)
This book seriously was fabulous. Everything about it was, including the writing and characters. Although something tiny was missing from it all, I adored it and the book itself made my reading experience feel special. You don't have to believe in everything, but then again not being naïve, and this is that whole experience full of things that are possible. I wouldn't even call the book fictional in a way because the concept is possible. It's beautiful.
Another Day is a companion novel that's full of everything that a reader would love in a book: awesome romance, intriguing writing and little hints of something special that Mr. Levithan adds into his writing every single time. Get ready to fall in love with A and Rhiannon all over again, through their interesting adventures that fate put them into, following each other for love. You'll never want to hear the name "Justin" again, definitely. A is now my favourite letter of the alphabet, and also for the meaning it stands for.
*A review copy was provided by the publisher via BookExpo America in exchange for an honest review. Thank you so much!*
do a lot of series that you've heard of/read have companion novels? what is your opinion of them? are they needed? do you enjoy them more than the first, previous novel? let me know your crazy thoughts, heh. 😉