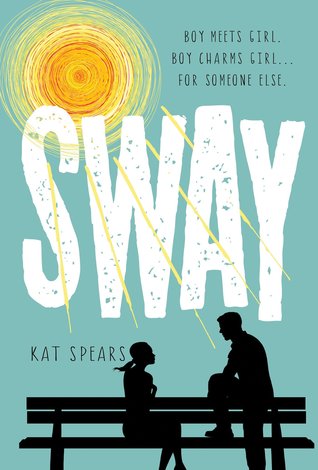 Sway, by Kat Spears Publication: September 16, 2014, by St. Martin's Griffin Genre: Young Adult Fiction, Contemporary, Romance Pages: 320 Format: Hardcover Source: Gifted Rating:
In Kat Spears's hilarious and often poignant debut, high school senior Jesse Alderman, or "Sway," as he's known, could sell hell to a bishop. He also specializes in getting things people want—term papers, a date with the prom queen, fake IDs. He has few close friends and he never EVERlets emotions get in the way. For Jesse, life is simply a series of business transactions.

But when Ken Foster, captain of the football team, leading candidate for homecoming king, and all-around jerk, hires Jesse to help him win the heart of the angelic Bridget Smalley, Jesse finds himself feeling all sorts of things. While following Bridget and learning the intimate details of her life, he falls helplessly in love for the very first time. He also finds himself in an accidental friendship with Bridget's belligerent and self-pitying younger brother who has cerebral palsy. Suddenly, Jesse is visiting old folks at a nursing home in order to run into Bridget, and offering his time to help the less fortunate, all the while developing a bond with this young man who idolizes him. Could the tin man really have a heart after all?

A Cyrano de Bergerac story with a modern twist, Sway is told from Jesse's point of view with unapologetic truth and biting humor, his observations about the world around him untempered by empathy or compassion—until Bridget's presence in his life forces him to confront his quiet devastation over a life-changing event a year earlier and maybe, just maybe, feel something again.
Sam's Thoughts:
Do you ever feel like swaying to a beautiful song that you have just heard on the radio? What about gushing and giggling when an author just writes a brilliant sentence that is so quote sticky-note worthy? If you answered "yes" to at least one of those two questions, that means that 50% of you is a lover of contemporary romance novels. It is just meant to be. And through this review, I promise you that you'll feel captivated to purchase/borrow/beg for a copy of Kat Spears's Sway. I almost typed "swag" there, LOLZ.
This is a novel that I admit I wasn't too sure about. How could you be when it's about instant romance, in a way? Or money making slash romance? Those can simply go either way, but at least I had enjoyed Owen Matthews's How to Win at High School, which was kind of similar to this, in a way. I promise you that there are hundreds of phrases/things/quirks that this book has which will leave you gushing, even if you're not an original fan of these kinds of books or work.
Having to remind myself since it's been quite a while since I touched the gorgeous dust jacket of Spears's tale, this is all about first love, which came in an unexpected way to two, completely different teenagers. Written in a male's perspective, Jesse is the guy you'll surely fall in love with. He could practically sell anything, or do tons of favours for people, for a price, obviously. When this hot-shot jock named Ken asks him to talk to angelic Bridget for him, Jesse is first hesitant but knows that he'll get paid well if he succeeds. When he meets her, they click instantly and their friendship begins, and strengthens to limits that aren't really allowed as Jesse's doing this as a job.
Accidents make everything better. It's like that cheesy saying about karma, "Good things come to those who wait." Bridget and Jesse's relationship really was an accident full of lies and stupid mistakes, but it all turned out to be 5 starred and spectacular. It was an accident that they ever clicked, when their personalities never should have clicked as they're opposites. If Jesse had never begun a friendship with Bridget's little brother, things wouldn't have gone to where they ended. It's a realistic, beautiful story that I just couldn't keep my eyes off of. And I can tell you that many, many real-life relationships had never been meant to be, but something randomly clicked, and all fell into love's hands.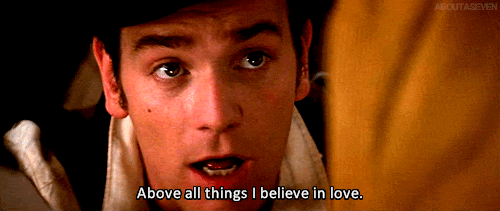 Kat's writing is lyrical, right-to-the-point and like a fresh breeze. Most contemporaries revolve around A) a jealous ex (B) somebody hiding from their past and looking for a way to shine/feel better and/or (C) a huge secret. This book revolved around the last option, but it's not like we were reminded by it. Jesse and Bridget's attraction was real, new and enchanting, nothing like it was fake or just written for pleasure. They made the pacing, concept and plot become what it turned out to be, not the other way around. I'd seriously read anything else Spears comes up with in the future, because I just can't get it all out of my head.
Smart, brainy, beautiful girl, plus a badass, hot guy? That equals absolute flirtation. We all saw some huge fit coming or else the story wouldn't have been real, but I'm glad to see that the plot and everything practically glued, sewed together to form a true masterpiece in the end. If you typically read science-fiction, go for this book. If you typically read high fantasy, go for this book. I just can't pronounce it enough. YOU NEED THIS BEAUTIFUL BOOK IN YOUR LIFE, OKAY?
This is something that I would've been a hundred times proud of if I discovered that John Green or Rainbow Rowell had written, some of the best contemporary writers in modern lit. But it takes its own whirl at things, to teenagers' hearts. Sway will leave you swaying, swaying to the incomprehensible song it promotes, the song that readers are only able to receive once they've read it and understood its real message. Plus, who doesn't like to read about cute elderly people who played on with it all? *winks*
What do you think of romances that are not so typical? what about those that deal with lies and emotional destruction through the end portion of the plot? are you willing to give this a chance? (because i hope you are.) this is wonderful, pure brilliance.