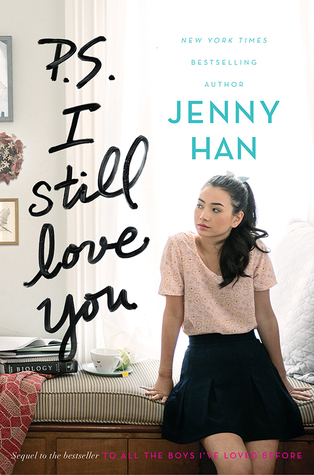 P.S. I Still Love You (To All the Boys I've Loved Before #2), by Jenny Han          Publication: May 26, 2015, by Simon and Schuster BFYR                                             Genre: Young Adult Fiction, Contemporary, Romance                                                       Pages: 337                                                 Format: Hardcover                                 Source: Purchased                                 Rating: 
½
Lara Jean didn't expect to really fall for Peter.
She and Peter were just pretending. Except suddenly they weren't. Now Lara Jean is more confused than ever.
When another boy from her past returns to her life, Lara Jean's feelings for him return too. Can a girl be in love with two boys at once?

In this charming and heartfelt sequel to the New York Times bestseller To All the Boys I've Loved Before, we see first love through the eyes of the unforgettable Lara Jean. Love is never easy, but maybe that's part of what makes it so amazing.
Sam's thoughts:
Jenny Han is one of my all-time, ultimate favourite contemporary writers. Her stories are captivating, unique and I end up falling in love with every single male love interest who Lara Jean lays her eyes on. It's that perfect love story that'll leave you thinking about first love and romance, and you'll never want to stop reading. Sadly, this was only a duology and Lara Jean's story just ended here, but her and Peter's love story lives on.
P.S. I Still Love You was fascinating and gorgeously written, just as all of the other stories that I own for my collection. Lara Jean and Peter turned out to be the cutest, bittersweet couple in all of YA fiction for 2015, and I just feel like tearing up and letting all of my feels explode. Not every author has that capability to make every, single reader fall in love with their work, but Jenny has that ability. I need everything she's ever written, all sent to me in a pretty, posh letter like Lara Jean's, and I'll spend the rest of eternity reading it all. I needed to read it all at once, in one gorgeous sitting.
"The minutes longer, stronger, more vibrant. All I know is that very minute without him feels interminably long, like I'm waiting, just waiting for him to come back to me. I, Lara Jean, know he isn't, but my heart doesn't seem to understand it's over." (256)
This continues right from where the last book left off at. It's New Year's Day and the Covey family are going all out, getting fancy, though Lara Jean can't stop thinking about Peter and about everything that has happened between them in the past. Sooner than later, we find them back together for real now, and Lara Jean is the happiest girl alive. When a mystery guy from her past appears in her life once more, she finds herself falling in love with two amazing guys, where she has to make the biggest choice of all: Who will she pick?
It's a freaking hard decision for her to make. And the best thing is that Lara Jean is one intelligent young woman who completely knows how to talk back, how to win at stupid conversations and make people who hurt her feel bad and guilt. Two guys from her childhood are foolishly in love with her, and she is secretly in love with both of them. You know we all hate instant romance? This is none of that, because they were childhood friends since they were able to walk and… it's magical. I can't stop thinking about the attraction between her and John or Peter and… I don't know what I would've done if I were in her shoes.
The minor issue which I had was Peter. I GOT SO UPSET AT HIM AND GENEVIEVE AND I WANTED TO PUT MY HAND THROUGH THE PAGES AND PUNCH HIM. Ugh. I'll just ignore that and stop raging because at least the ending was perfect with him alongside it. 
"Things feel like they'll be forever, but they aren't Love can go away, or people can, without even meaning to. Nothing is guaranteed." (29)
The ending to this fabulous duology is special and 100% satisfying. I just can't get the meaningful story out of my head and especially all of the characters. As always, Jenny Han's writing is enchanting, mesmerizing and like an illusion—I'm stuck in her fictional worlds for ages after I flip through the last pages. I'm in love with this book, as well as Peter and John Ambrose. *blushes*
can every contemporary author produce the feels in their writing for you? are you a fan of jenny han's writing? do you enjoy love triangles?